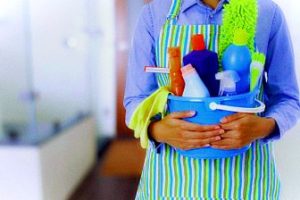 Sometimes, the general cleaning our houses receive once in a while is simply not enough. If you have noticed that your house is not as clean as it should be, maybe it is time for a deep clean. This type of cleaning is usually performed when you first move into a house, during the holiday season or if you are holding an important event at home, for example. However, deep cleaning can be the perfect way to start on a clean slate, prepare for the warm months, or simply declutter your home and have it in its optimal condition once again.Many people choose to have their homes deep cleaned in spring ( Spring Cleaning). However, it is very suitable to get this done in autumn as well. The point of this cleaning is to get rid of dirt and rubbish that have been sitting in your house for a while, clean places that you usually do not pay attention to and sanitise places in your house that gather most dirt and microbes. When deep cleaning, you must cover all places of your home and especially those that need extra attention.
When you decide to take on such a job, it is best to have a detailed checklist and plan of action. Since you will be covering the whole house, an extra pair of hands would also be helpful. The idea is that you organise everything in such a way that the workflow goes smoothly and you are able to clean everything without missing out any important areas.
First of all, you should declutter all your rooms. Removing all rubbish and old, unnecessary objects will free up space and let you enjoy more of your house. What is more, removing all clutter will also allow you to really see what needs to be deep cleaned.
The next thing you can do is dust all ceilings and walls. If there are any more serious spots and stains on the walls, take time to clean those up as well. Do not forget light switches and air vents.
Dust and clean all framed objects and pictures that are hanging on your walls. Make sure you wipe the frame and the glass.
Clean your ceiling fan, especially in spring when it is about to be used.
Take down all draperies, curtains and blinds and wash them. Check the manufacturer's instructions. Steam clean them if possible, since this way you will have them perfectly cleaned and sanitised.
Clean all upholstery with your vacuum cleaner. It is important to go behind and between cushions , as well as under the furniture. If there are any spots or stains, consider steam cleaning or couch stain removal.
Dust all lampshades and other decorations that have been collecting dust. Now is a good time to remove all your books from the shelves, dust them and wipe and polish the shelves as well.
Dust down all electronics, tables and other surfaces. After dusting, you can wipe them with an anti-static cloth or polish them with a special solution.
Clean all your drawers and cupboards inside and out. As soon as you remove some of the clutter you will notice how dirty they are.
Clean all your carpets and floors, if there are specific materials like carpets or wood, pay extra attention to them.
These are some basic chores you can perform while cleaning the main areas of your home. More attention and effort will be needed for your kitchen and bathroom areas. You need to descale and polish all surfaces. Remove grease, wipe down tiled surfaces and make sure to sanitise all objects and areas. Cleaning those places requires more time and effort since they usually gather a lot more dirt and grime. Also the conditions in both are perfect for the growth of mold and algae.
Both the kitchen and bathroom are rooms that must be more thoroughly cleaned. Proper sanitisation of all surfaces in them would be needed. If you do not regularly take care of them, dirt and grime are going to build up and give you a hard time getting rid of them. Check what exactly has to be done – is there mould, limescale, grease, clogged drains, soap scum etc. Prepare a list of products and tools that you will need for all those issues and stick with it. Give it time to soak in the product and do not hesitate to choose commercial products if the home remedies do not perform as good as you wished them to.
Make sure you clean your extractor, your air vent filter and your shower curtain.
In conclusion, deep cleaning is an exhausting, detailed job. However, with the right tools and a detailed checklist you will be able to do just fine.
Here are some special tips that we hope will help you succeed:
Do not be afraid to get rid of stuff – Donate, sell or throw away but do not keep unnecessary things at home.
Call a friend or a family member. Cleaning with company may be fun and you will definitely finish the job faster.
Collect your tools and products all together first. Spare yourself the time to look for them in the middle of your cleaning.
Listen to music or a podcast. Have something to keep you excited and motivated during the scrubbing hours.
If you cannot succeed in performing some of the tasks, do not hesitate to call a professional deep cleaning company
Once you properly clean your whole place you will notice a difference not only in the looks of your place but also in the quality of life you lead. Prepare for the warm months and welcome summer in a beautiful, neat and tidy place.