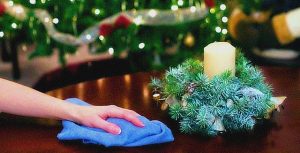 Holidays are fun! Everyone is excited when it is time to celebrate. People gather together, it is often time to go visit your relatives and eat yummy meals. All of this sounds amazing until you decide to host a holiday lunch or dinner and end up with a messy ( yet happy ) house.
Especially around the Christmas and New Year's Eve holidays, hosting can be a daunting task. From organising, through the hosting itself, and last but not least – the cleaning. Honestly the last part is the least fun but inevitable indeed. You may feel tired and burned out after all the celebrations and certainly not feel like deep cleaning your whole house. That is exactly why we would like to share some tips on how to make this activity easier and spare yourself some time and effort.
Here are some steps that might help you organise your cleaning process easier:
Garbage Up
Before you start scrubbing and cleaning, grab a garbage bag and start collecting remains, leftover food, empty bottles, packages and anything that belongs in the garbage bin. Make sure you go through your whole house and remove all rubbish. This will help you with the cleaning later – there will be no rubbish in the way and you will have all surfaces and areas clear.
Gather up things that are misplaced
After you have removed all the garbage and freed your space a little bit, you will be able to see all the items that can be found around your home. Grab a large basket and put the things that are misplaced in it. Do not waste time going back and forth between rooms. Put all the things in the basket and bring them to their designated places later. This step will help you with the cleaning later but will also work as a partial decluttering of your home.
Gather your cleaning supplies
Now that you have removed all rubbish and things that should not be there, it is time to start with the cleaning. However, there is one more step to do before that – gather all your cleaning tools and products. By doing that you will not waste any time looking for certain cleaning supplies, you will have them all together. The best tip here would be arranging a cleaning caddy. If you don't have a real caddy you can use a bucket, plastic container or anything that will fit the following items:
2 or 3 microfiber cloths
1 polishing cloth
a spray bottle full of water
a spray bottle full of your favourite multipurpose cleaning product
a cleaning brush
1 or 2 sponges
Those things should be enough for you to clean most of the house. Of course, dusting tools and a vacuum cleaner will be needed as well. However, they do not really fit in a caddy (unfortunately). You can bring another garbage bag with you, just in case. You may also need an extra container for more random things you find that don't belong where they are.
Make a plan
Having a plan is extremely helpful when cleaning large areas or multiple rooms. Before you start cleaning, go through the whole house and note down all the places that you need to clean. If you are not sure about where to begin, a to-do list or a detailed plan of action would be perfect. Set up the order in which you will be cleaning. For example:
remove all cobwebs from ceilings and corners
dust surfaces from top to bottom
clean any spots on walls/furniture – from top to bottom
clean your dining table, countertop etc.
vacuum and wash/mop floors
Clean one room at a time
Start from the dirtiest area and move your way to the other rooms. Be consistent and don't get distracted by other tasks/rooms. Keep in mind that even if it takes you a couple of days to clean your whole place, this trick will help you have a finished product at the end of the exhausting cleaning day. Make sure you do not start anything else before you finish the room you began cleaning.
Decorations can go
A lot of people find it hard to part with their holiday decorations, especially around Christmas. However, cleaning your place could be the perfect time to remove them ( or at least most of them). If you are still feeling festive, leave your favourite decorations and remove the ones that are in the way. Table pieces, for example, can go back to the cupboard. Do not hesitate to get rid of them. More holidays will come and you will find yourself decorating again in no time.
The big scary cleaning after your holiday guests will be done in no time. Follow these tips and rest assured you will be done before you realise you started in the first place. Feel free to ask a relative or a friend to come help you. Make it fun, play some festive music, have a drink and enjoy putting your house back in order.