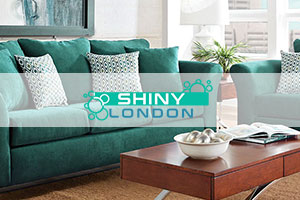 Do you wish that your sofa looked just as good as it did when you bought it? Have you tried to clean your upholstered furniture by yourself, then you undoubtedly know how burdensome (and very often unsuccessful) stain removal from upholstery turns out to be. Shiny London knows the easiest way out!
Our Upholstery Cleaning Service are designed to serve the needs of every household or public building so that you can preserve the condition of your upholstered furniture, keep it clean and neat.
You will no longer have to spend time and put a lot of elbow grease into removing the stains from your upholstery and try to enhance the colors of your upholstery. Just book our professional upholstery cleaning services and we will make your upholstery look as good as it did when you bought it.
Are you sick and tired of spending hours on end trying to clean your upholstery and trying to get rid of those stubborn stains? No matter how hard you try and how much effort you put in this process, it is never as satisfying as you wish it to be?
Carpet and Upholstery Cleaning
Our Prices
Landing Carpet
£5 £4
Bedroom Carpet
£25 £23
Livingroom Carpet
£29 £26
Sofa - Two Seat
£30 £27
Upholstered Armchair
£18 £16
Let us make you an offer. Let the experts help you. We at Shiny London know how to tackle the cleaning of your upholstery in a professional manner. Our upholstery cleaning experts receive an upgrade training every month in order to outperform our competition. Choose us to clean your upholstery and the result will amaze you.
We are reputable and trustworthy upholstery cleaning suppliers. We have spent enough time in the field of professional upholstery cleaning and we are confident enough to guarantee amazing results.
We have the right cleaning solution for you! Our upholstery cleaning services are designed to meet even the requirements and demands of the most pretentious clients. Our team is trained to work with various kinds of fibers and we can return every kind of upholstered furniture back to life. Shiny London is located in London and operates within London and the nearby areas and neighbourhoods.
Outstanding results with our upholstery cleaning services
Our technicians are trained to operate with the hot water extraction method which has been declared the most effective carpet and upholstery cleaning method. The deep steam – hot water extraction cleaning method uses hot water released under very high pressure. This enables our cleaning experts to eliminate not only all stains and discolorations from your upholstery, but also bacteria and germs as well.
Protect your relatives, four-legged members of the family and yourself by booking our upholstery cleaning services. We will completely sanitize your upholstered furniture using only natural cleaning products which contain no toxic chemicals. Our cleaning services may be conducted near children and pets and we guarantee that our methods do not pose a thread to any members of your family.
We offer:
Fair and easy pricing system to fit every budget
High-class cleaning materials and equipment
Experts with experience and motivation
Up to 97 percent removal of spots, stains, pet dander, etc.
100 per cent satisfaction guaranteed
At Shiny London we are ready to comply with the needs of each of our clients. That is why we offer one-off upholstery cleaning services, but we are also able to assist you on a regular basis as well. Expert cleaners and furniture manufacturers advise to have your upholstery professionally cleaned at least once every six months.
And in order to keep it clean in the meantime, it is recommended that you vacuum your upholstery regularly. It is also essential that you do not consume any food or drinks while you relax on your sofa. To be sure that you are surrounded with a clean and healthy environment, get in touch with our friendly customer support team either via phone or e-mail and book our upholstery cleaning services today. We promise that you will not be disappointed.
Splendid upholstery cleaning services in London
Book us just once and you will see that we are worth it. We can assist upholstered furniture made of fabric exclusively and we operate in London and the surrounding areas. Get in touch with us and we will remove unpleasant pesky spots, stains, spillages, smudges, allergens, bacteria, dust mites, tiny insects, microorganisms and other pollutants which thrive on your dirty upholstery.