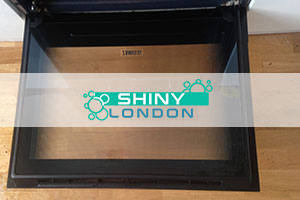 Oven cleaning is a specific service which should be carried out only by specialists. Why? Because if you are not familiar with the appropriate measures which must be taken, you will not be able to clean your oven. And as you might probably know, improper oven cleaning may ultimately result in domestic fire, and we are sure you would not like that to happen in your home.
Instead of trying to clean your oven by yourself, we would like to propose an alternative – rely on us. We are armed with professional cleaning machines and high quality grease removing cleaning products. Your can have a brand new oven without paying for one – just contact us and book our professional oven cleaning services. With us at Shiny London perfect results are a guarantee.
Since the cooker is an appliance which is used by most of us on a regular basis, it is essential to keep it in a good condition. A dirty oven has grease and grime all over its bottom and walls; it is precisely the accumulated grease and grime on the walls and bottom of your oven which is responsible for the decreased quality of your meals.
Oven Cleaning Services
Our Prices
Single Oven Cleaning
£50 £45
Double Oven Cleaning
£65 £60
Extractor Cleaning
£18 £15
Cooker Hob Cleaning
£17 £15
Fridge Cleaning
£65 £60
What is more, grease and grime continues to overcook each time you use your oven. If you turn a blind eye on it, sooner or later your oven will start to emit smoke and, if neglected yet again, it could catch fire. It is not just the fire hazard that should make you at least consider cleaning your oven, though. In addition, the dirt on the inside/outside of your oven could also render the appliance ineffective as your oven will more time to get to the desired temperature and it will not be as powerful as it should be.
Ultimately, your oven could cost you quite the money if not kept in a good condition. And since we are familiar with professional oven cleaning, we would like to ask you to rely on us. We can make your oven sparkling clean in no time. Book us and the results will amaze you.
During the cooking process high temperature is used to cook your meals. Many people wrongly believe that the high temperature used when your oven works is a guarantee that all bacteria is eliminated. And such people do not believe that oven cleaning is important. However, there are bacteria called thermophiles which live in places with extremely high temperatures. And if your oven is dirty, it is very likely that thermophiles thrive in it, posing a potential thread to your health.
Oven cleaning is not overrated – it is a must and it is now available in London
You probably find your oven the most unknown thing in your kitchen. You rarely look into it and all you want it to do is to bake your food and make it as delicious as possible. This cannot be done properly without giving it the love and care it deserves. It might sound over-exaggerated, but in fact if you want to keep your oven in a good condition, you should clean it every week.
At Shiny London we recommend that you rely on our professional oven cleaning services every three to six months and in the meantime keep it clean using market-bought or homemade degreasing products. This will improve the way your food tastes and smells and will help you keep a sound health as well. You deserve to eat the best meals, cooked in a brand-new looking oven and if you rely on our professional assistance you will achieve this easily.
If you give us a call you will receive:
Professional treatment and friendly attitude
Getting rid of all the grease and fat stuck on your oven
Disassembling all internal racks and cleaning around them
Polishing everything and leaving it sparkling clean
You have probably never thought it is possible to actually remove everything from your oven and clean it thoroughly top to bottom. We at Shiny London are able to lease a new life into your oven using professional cleaning products. With our help your oven will look completely transformed after just one cleaning session.
Oven cleaning done by professional cleaners
The cleaning teams our company works with consists of professionally trained oven cleaning experts which go through an upgrade training every month. The training takes place here in London and is conducted by leading specialists in the cleaning industry and our cleaning technicians also receive valuable advice from leading oven manufacturers as well.
Call us and schedule your first oven cleaning appointment and you will see with your own eyes just how good our cleaning specialists really are and what a good job they can do.