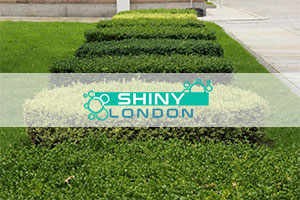 Can you imagine a beautiful and well maintained garden, with neatly organized flower-beds and perfectly trimmed hedges and trees? Yes, this is not a part of some fairy tail, this can come true by choosing our professional Gardening services. We from Shiny London can turn your garden into the magical spot from the fairy tails only by ringing us. We will be there and make your garden come to new life.
Whether you have a small or large area with grass which you need cut one-off or maintained properly, you can count on our gardeners to take care of it. They have the skills, equipment and experience necessary for mowing lawns effectively using advanced and tested machines and tools.
The grass cuttings will be gathered and collected by our workmen. We can dispose of them whenever required by the owner. You can order weed removal, pest control and other gardening services along with the mowing. Call us to schedule your grass cutting and our company, operating in London, will provide it.

Professional Gardening Services
Our Prices
Hedge & Bush Trimming (Team of Two)
£37 £33 per hour
Lawn Mowing & Weeding (Team of Two)
£37 £33 per hour
Tree Trimming (Team of Two)
£37 £33 per hour
Cutting Large Bush (Team of Two)
£37 £33 per hour
Inexpensive Grass Cutting Services
In case the lawn in your house or other kind of property has become too overgrown, filled with weeds and bare patches, you can use our services to restore it. The work of our gardeners includes:
You can use the effective gardening services we offer to ensure the better condition and appearance of your home and other estate's outdoor areas. Our gardeners carry out initial inspection after which mow the lawn with the help of powerful machines specialised for this purpose.
Get in touch with our company to clarify how often and when you need the cutting to be implemented. It is estimated that lawns which have been cut regularly are less prone to growing of weeds, having pests and bare patches. The grass cutting services provided by our company in London ensure professional results and better looking garden areas.
Affordable Gardening Services in London
Inspection of the area
Using powerful machines which provide speedy mowing
Collecting and removing the grass cuttings
Edging near flower beds, trees, hedges, pathways and other garden features
Weed and pest removal upon request
By using the services which we provide you can maintain the plants and green areas of your estate in healthy and lush condition. We offer regular and upon request implemented lawn mowing, weed removal and many other gardening services. Use our call centre to reserve the professional grass cutting we offer within [%CURRENT%] at affordable rates and you will be pleased with the end results of our work.