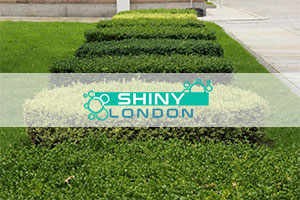 Can you imagine a beautiful and well maintained garden with neatly organised flowerbeds and perfectly trimmed hedges and trees? You might think that this can be achieved only in Hollywood movies and in your favourite interior design magazines. With Shiny London, however, the case is not such.
If you choose Shiny London's Gardening services, your garden will be made to look just as perfect as those you see on the pages of your favourite magazine, or your favourite movie.
Choose us and our competent gardening experts will deliver a professional garden maintenance service quickly and they will not forget to weed any flowerbed, too. We will trim hedges, weed flowerbeds and cut grass. But that is not all!
Knowledgeable personnel
We promise to please you
Use of the best equipment available
We will turn your garden into a magical place
Applying modern techniques against persistent weeds
Your perfect garden is just a phone call away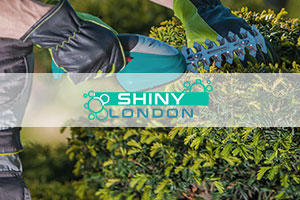 Of course, booking us is by no means mandatory and you are free to choose any of our competitors. However, we can not guarantee that they will deliver the services they have promised.
At Shiny London, on the other hand, we do not make promises we can not keep. For us transparency and honesty are important and that is why we will never lie to you.
Professional Gardening Services
Our Prices
Hedge & Bush Trimming (Team of Two)
£37 £33 per hour
Lawn Mowing & Weeding (Team of Two)
£37 £33 per hour
Tree Trimming (Team of Two)
£37 £33 per hour
Cutting Large Bush (Team of Two)
£37 £33 per hour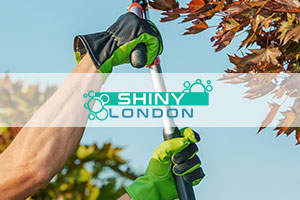 Choose us and we will take care of your garden with such attention and care as if it were our own. Our gardening services are always delivered by a team of two gardening experts who work with their own equipment (all of which is included in the price for our services).
Whether you own a small front yard that needs grass cutting or a few hectares' garden with hedges that need trimming, you can count on our gardening maintenance experts to take care of it.
They have the skills, equipment and experience necessary to mow lawns effectively using advanced and tested machines and tools. But that is not all – our technicians have went through an extensive training program concerning garden design. As a result, each of our gardening specialists is familiar with the minutest details of garden design.
The grass cuttings will be gathered and collected by our workmen at the price of 2 GBP per bag and 55 GBP per hippo bag. If this method does not appeal to you, you can leave green waste to be collected by the council for free, if this is available in your area.
If the lawn in your residential or work area has overgrown considerably and is dotted with weeds and bare patches, you can rely on our gardening technicians to restore it to its previous glory.
Revival of brushes and hedges
Elimination of all nasty weeds
Transformation of all flowerbeds
Complete makeover of your garden
Trimming your hedges to perfection each time