We would like to reveal a little secret – contrary to common belief, your carpet is far from an ultra durable home accessory.
Conversely, it is just the opposite and improper treatment will most likely result in a fiber fraying and fading of colours. Since you know how expensive your carpet is, maybe you would like to learn how to treat your carpet accordingly. Well, you are lucky, we are going to tell you.
To increase the lifespan of your carpet, you need to vacuum it regularly. What is more, it is important to try and refrain from walking on your carpet barefooted as the oils and moisture from your feet may damage the carpet fiber.
But most importantly, you should have your carpet professionally cleaned at least once a year. The reason for this is the fact that it is impossible for unprofessional cleaning products to deliver the same results as professional cleaning products.
| Carpet and Upholstery Cleaning | Our Prices |
| --- | --- |
| Landing Carpet | £5 £4 |
| Bedroom Carpet | £25 £23 |
| Livingroom Carpet | £29 £26 |
| Sofa - Two Seat | £30 £27 |
| Upholstered Armchair | £18 £16 |
"You guys are amazing! I've been using your professional service for many years now and I must admit that without your help, I wouldn't have been able to keep my carpet looking so good. And the best part is that your services are affordable. You are worth every penny – Janet"
The carpet cleaning should be done by professionals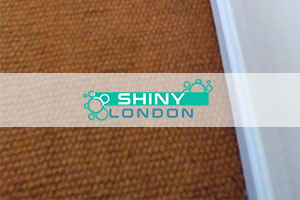 When most people hear professional cleaning, they associate it with having to pay mind-blowing sums of money. But with Shiny London the case is not such. Our carpet cleaning services are available at reasonable prices. Choose us and we will rejuvenate your carpet completely.
Carpets are the preferred flooring option in most households as they are not only irreplaceable additions to the interior of a room, but they also add a sense of comfort and cosyness. However, carpets as well as area rugs should be cleaned on regular basis if you want to be healthy and keep your carpets in a good condition.
We offer the Customer a 5-step carpet cleaning service, which is complied of:
Professional hoovering of your carpet
Pre-clean treatment of high-traffic areas and stains
Professional deep steam cleaning
Total deodorisation of your carpet
Up to 95 percent moisture extraction
We are preferred by homeowners and hotel owners alike as we are able to deliver the industry's highest standards within every property without exceptions.
Your carpets should be at their utmost clean state in order to keep bacteria and mold away from your property and keep your sound health as well.

"I thought I suffered from a severe allergy because I had had a runny nose and watery eyes whenever I'm at home for like 2 years. But it turned out that the carpet in the living room was infested with pollen and bacteria. Thanks to your technician, I do not suffer allergy-like symptoms any more – Alex"